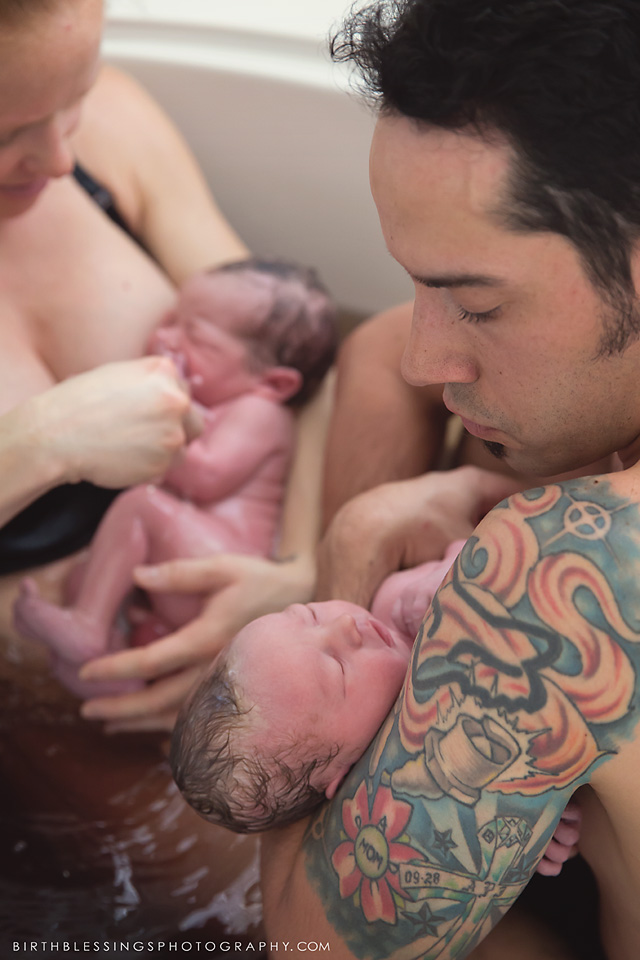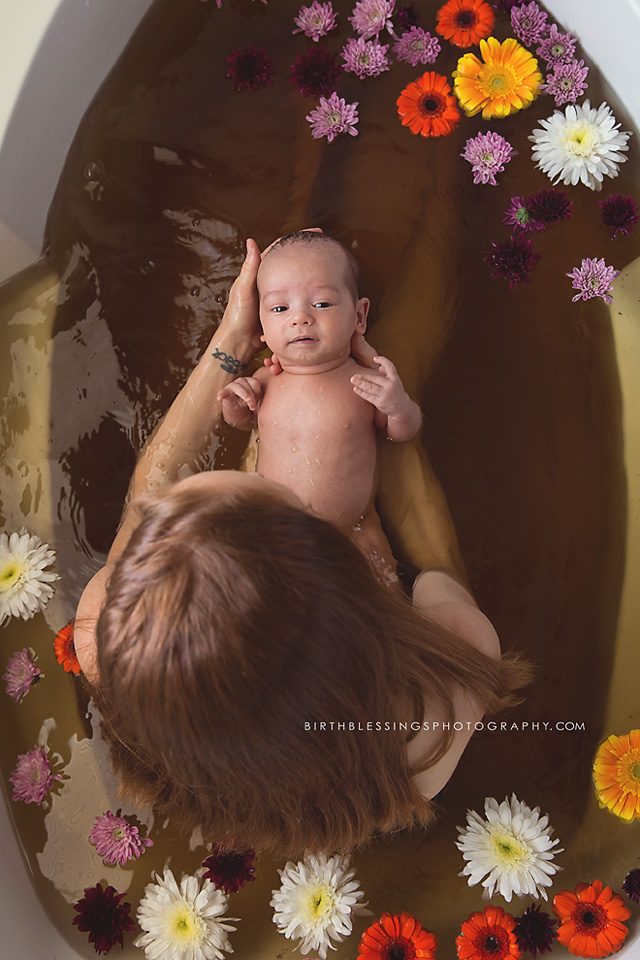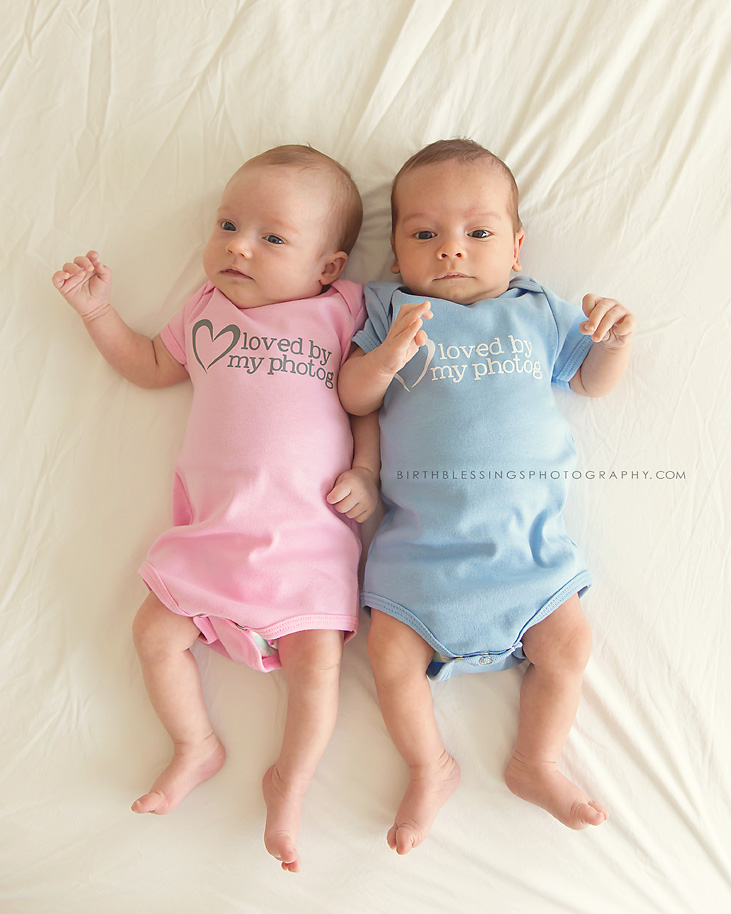 Twin pregnancies now occur in about 1 out of every 40 conceptions. This has increased over the last few decades due to the successes of assisted reproductive technologies such as IVF. The best medical evidence supports the option of a vaginal delivery for most term twins as a safer route for mother and baby. Birthing Instincts, Inc. offers families that meet known safe criteria the option of a natural twin delivery in your home or a local birth center. As with breech delivery, the skill and training of your practitioner is very important. Many physicians are not trained to deal with a second twin that is not in the head first position and therefore approach the solution to a twin pregnancy with a bit of consternation and a quick leaning toward cesarean section. While this is an option, the decision of how best to deliver your babies should only be reached after true informed consent has be given regarding all the risks and benefits of all your possibilities.
Dr. Stu has been delivering twins vaginally for over 30 years. He has lectured on this subject and is well qualified to determine if vaginal delivery for your individual pregnancy is a reasonable option.
If you find yourself blessed with a twin pregnancy we believe it is imperative for you to seek out all your options and wisely use a filter for any fear that sets in-- contact us today. Consider a consultation with Dr. Stu or even an independent second opinion to find out all your options. Birthing Instincts believes in evidenced based options and with respect for your individual autonomy will gladly review the literature and Dr. Stu will have an honest discussion of the pros and cons of home and hospital, vaginal and cesarean delivery.
I lost my mom to a complication resulting from her C-section when my twin sister and I were born. The moment my husband and I discovered that we ourselves were expecting twins (yes, twins having twins) I certainly didn't want to repeat her experience and a home birth is something that I've wanted for myself and my own family, but unfortunately, if twins are involved, the traditional midwifery practice is no longer legally supported in California. So my husband and I began the tedious interview process with numerous OB's, hoping that one of them would support a natural hospital birth. Again we were met with constant disappointment, as most OBs treated and made me feel like my pregnancy was a disease that needed management instead of the natural process that it was. I knew it was going to be a fight to the finish for a natural birth experience at the hospital.

That's where Dr. Fischbein comes in. It wasn't until my 3rd trimester that we stumbled upon him, and we both knew from our initial consultation that he was the perfect OB for us!!! No other doctor believed that I could possibly go full term (OB's laughed at such a prospect), if even beyond 36 weeks, and they'd certainly never let me go so long without intervention. But Dr. Fischbein trusted the natural birth process, particularly labor itself, and waited patiently until it started on its own. And it did, 3 long days after my due date!! I just wish I had found him earlier, but then again I now know that I wouldn't have appreciated him and his wonderful midwifery team nearly so much if I did! The staff and atmosphere of the place was calming and Dr. Fischbein spent so much time with us at each appointment, talking in his office, listening, and respecting our decisions concerning labor.

Labor itself was an amazing experience. I mean, it's one of the pinnacles of the human existence. Dr. Fischbein and his team showed up in a timely, respectful manner, yet I hardly knew they were present in our home. He left me alone to labor (as a mother should, without unnecessary intervention) except to check the heart beats once in a while. After 12 hours of active labor I gave birth to Eric, our first twin, who was 7.8 lbs. and then a short 48 minutes later, Ira, our second twin, was born at 6.11 lbs. I appreciated how Dr. Fischbein let our second baby arrive on his own timing. And even though I hemorrhaged, Dr. Fischbein took care of it professionally and gracefully. He had everything that I could possibly need on hand. I was able to get the birth experience that I wanted, it really was a beautiful and joyful day, which I'll have and share for the rest of my life, but only because Dr. Fischbein made it happen. And it cost us less than a hospital birth since our insurance accepted the in-network exception for a home birth. Yes, the insurance paid for it and it was CHEAPER than the bills we would have received from the hospital.

I am so thankful for the mutual trust we had for each other. My twin sons were born naturally – at home, in Mommy and Daddy's bed. To be able to do so helped give me the confidence on becoming a great mother.
-Sarah H.
Giving birth at home to my children was one of the greatest gifts I could give to myself and my family. There is a lot of controversy about home birth out there in the media today. Many people are impassioned on both sides of the debate. I believe women should be given the right to have their babies in a safe environment, whether that is at home, a birthing center or in a hospital. I chose my home for all three of my children. I believe in the power of women's bodies and I am saddened to know that our power is unintentionally undermined in many hospital environments. Labor takes a long time, no magic way around it.
I found Stuart after discovering that we were expecting twins. My first son was born back east with a wonderful midwife in my mother's home. I now live in Santa Barbara and I had heard the birth climate for delivering twins here was almost always a c-section. I did not want to go down this path. My husband and I used IVF for these twins and many people were scared by my choice to have them at home. Many women undergoing IVF are faced with complex emotional challenges about the credibility of their bodies and want to just go the "safest" route possible. I wanted to recapture my body's power and wisdom and convert this stressful time into one of strength and celebration. I upset my fertility doctor and he said I was endangering the lives of my twins. I knew otherwise. It wasn't easy, but I am very determined when I set my mind to things.
Upon meeting Stuart, my husband and I were equally calmed and thrilled. My husband, calmed, because he was nervous about the home birth scenario. He left confident in Dr. Fischbein's experience and approach. He knew he wasn't some renegade out to prove a point or make a buck, but an advocate for women feeling alone in an overly dictated and fear-based system. I left thrilled because I had found the doctor who believed in me and in his skill enough to take on this "high risk" home birth. He respected my curiosity and research. I obviously tend toward an alternative medical approach and he allowed me my opinion without judgement. He is a doctor, after all, and always stayed grounded in that foundation.
We had our twins on a beautiful Sunday evening in February. We had an amazing team of women supporting us on this journey. After five hours of active labor, our first son was born! It was intense, there is no question, and when I spiraled out of my center for a moment right before I was ready to push, Stuart, very calmly yet firmly, said, "Ivy, breathe". I did and it was only a few more contractions and Ossian was ready to join us. His birth was very serene for those watching, and a beautiful relief for me. Remember I was in the throes of labor with another one waiting inside!
Then came the shift. The perfect, concentrated shift of survival. Viggo, our second twin, was transverse and didn't want to turn head down. Stuart had his portable ultrasound with him, tracking Viggo, making sure all was well. After his pulse fluctuated, then dropped for a longer period than Stuart was comfortable with, I saw him go into a mode that was an inspiration. He said, "I'm going to go get him". I knew this was a possibility and completely surrendered to the task at hand. He reached up and skillfully pulled out the perfect little baby boy inside me. This was obviously more intense than I can convey now, but my husband and I would not change any aspect of this experience for one second. It was our perfection. In ANY other place, I would have either been scheduled for a c-section or had an emergency one. Thank you, Stuart, for always believing in women. Thank you for questioning medicated births and thank you for working with midwives. We are forever touched by the tenderness and authority with which helped bring our boys into the world. I cry out to the farthest reaches of our humanity to lift up your skills and to be given the chance to TEACH them to those curious enough to know!!!
I am always open to any woman who would like to talk. Where you choose to have your child is not an easy decision, but it won't go away. Be brave ladies. Stand up for your rights.
Ivy V.